RiverStones Custom Framing & the Franklin Gallery, 33 N. Main Street in Rochester, will host "Barnacles: Scrapings Old and New from the Belly of the Good Ship Bachelder," an exhibit by Berwick, arts multiple Ross Alan Bachelder, for the month of February during regular business hours.
There will be no opening reception due to RCF's concern for the safety of its visitors, but anyone may stop by and see the current exhibit during regular RCF business hours.
Writer, artist and musician Ross Bachelder has been exhibiting his unorthodox and playful drawings, paintings, found object assemblages and photographs in galleries in northern New England for more than twenty years. He was the founder and coordinator of the KAA Seacoast Moderns (an interest group within the Kittery Art Association), and, for one year, the coordinator of AAGNE (The Abstract Artists Group of New England, an interest group within the Newburyport Art Association in Massachusetts).
He spent 12 years as manager the frame shop at Ben Franklin Crafts in Rochester. During his time at BFC he also founded and managed the Franklin Gallery, which is now a part of RiverStones Custom Framing.
He was active for many years as a musician, performing solo recitals, playing in musical theatre and appearing at art exhibit openings and other special events as The Flute Guy. In 2011 he traveled to New Zealand to perform in the Opening Night Ceremony for noted New Zealand artist Susan Harrison Tustain.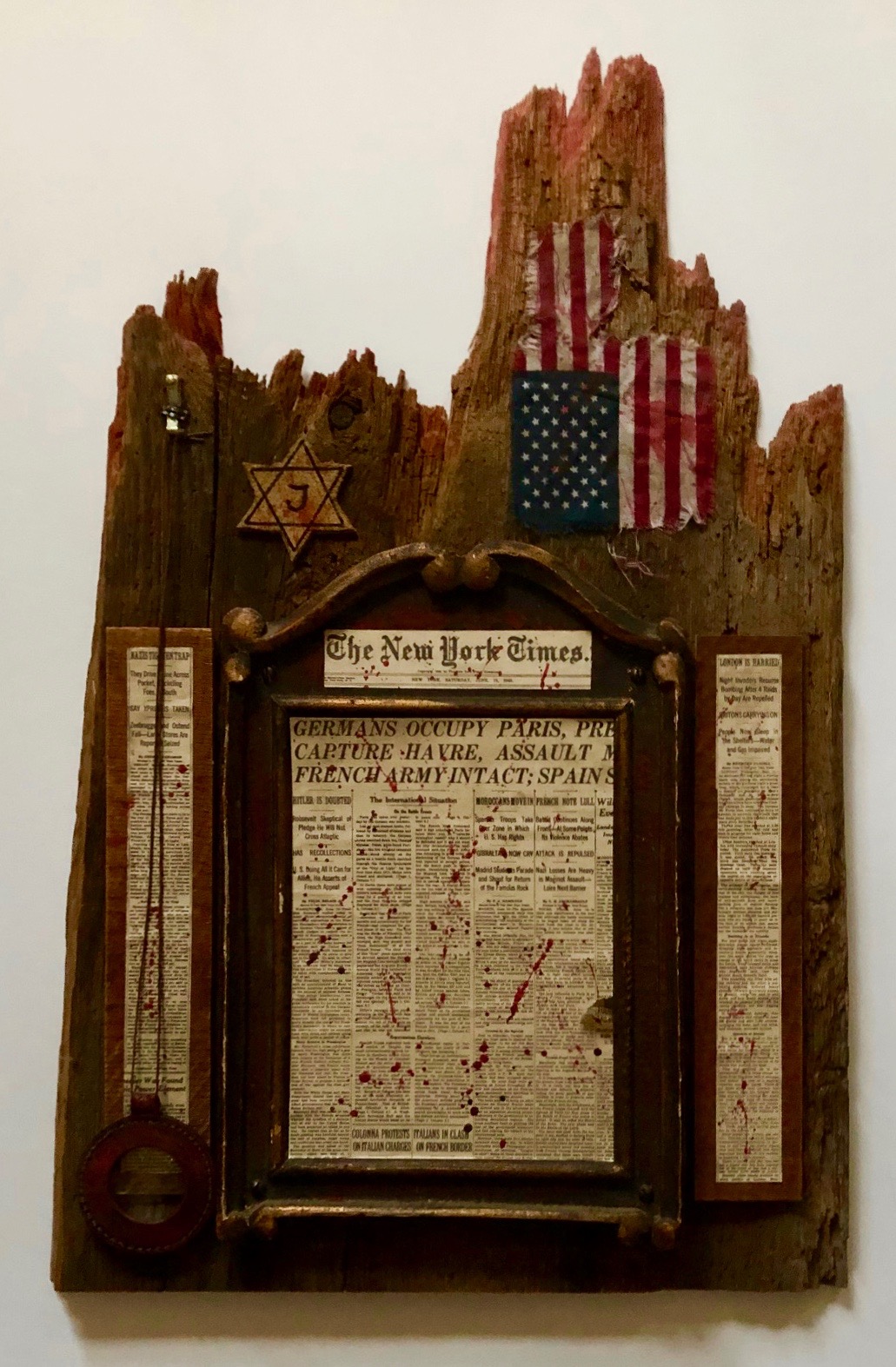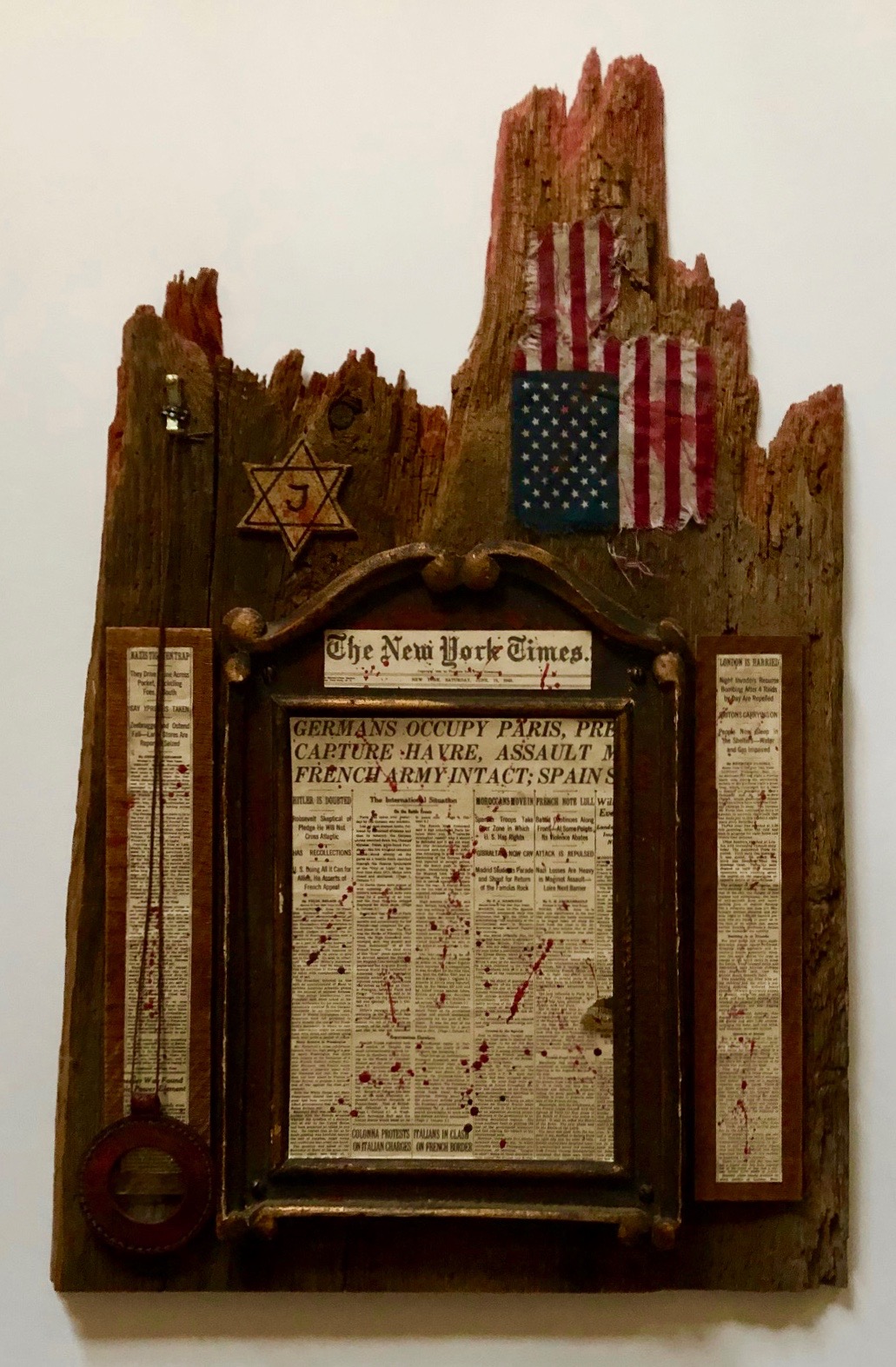 Bachelder has traveled frequently over the years, touring art museums and galleries, then writing and speaking publicly about his longtime immersion in the fine and performing arts. He's toured major museums in England and Scotland, in New Zealand, in Montreal, Canada, and most recently in Reykjavik, Paris, Amsterdam, and Bruge, Belgium. Within the States, he's toured museums and galleries in Philadelphia, Boston, Chicago, Detroit, Cincinnati, Indianapolis, New York, and many other cities.
His first book, Happy Dawg Walks The Sad Man: The Remarkably Varied Adventures of a Confirmed Arts Multiple, was published in 2016. His second book, a collection of dark but humorous short stories titled Revenge: Tales Best Read in the Twilight Hours, was published in 2020. Both titles are available either on Amazon or at The Freethinker's Corner on Central Avenue in Dover, New Hampshire. He's currently at work on his third book, a novel titled Cecelia by Moonlight: The Problem with Intelligence.
RiverStones Custom Framing is a respected, thoroughly experienced frame shop, offering high-quality custom framing, expert art restoration, and everything in between. The Franklin Gallery is always open during regular frame shop hours.
RiverStones Custom Framing is open Wednesday to Friday, 11 a.m. to 5 p.m. and Saturday, 10 a.m. to 2 p.m. For information about Ross Alan Bachelder's February exhibit and other RiverStones events and services, call Kris or Tom at 603-812-1488 or visit the RiverStones website or Facebook page.