During the June 7th Police Commission meeting, the Rochester Police Department inducted four new officers and promoted Nicole Knox to the position of sergeant.
Noah McCann is a native of Rochester and a graduate of Spaulding High School. While at SHS, Noah took a criminal justice class, and after graduating, he enrolled in the criminal justice program at Great Bay Community College. Noah also enlisted in the US Marine Corps Reserve. Chief Boudreau noted that Noah has done well to prepare himself for a career in law enforcement. Due to his military commitments.
Zachary Bernstein is a native of the seacoast New Hampshire area. He is a graduate of Winnacunnet High School. After High School, Zach enlisted and served 6 years in the US Marine Corps, serving in several leadership roles.
Ryan Ball is from Sanford, Maine, and is a graduate of Sanford High School. Ryan is a second-generation police officer. Chief Boudreau stated that Ryan has a close connection to the Rochester Police Department because his father, Eric Ball, recently retired after serving an honorable 20-year career. After High School, Ryan enlisted in the US Marine Corps where he served for 4 years.
McCann, Bernstein, and Ball will all attend the NH Police Academy for a 16-week full-time certification.
Officer Jason Harris is a second-generation police officer. He comes to Rochester from the State of Vermont where he served as a police officer since 2016. Jason is an instructor in many police disciplines: FTO, Taser instructor, UOF instructor, and de-escalation technique instructor. Jason is full-time and certified, so he will be attending the NH Police Law Package.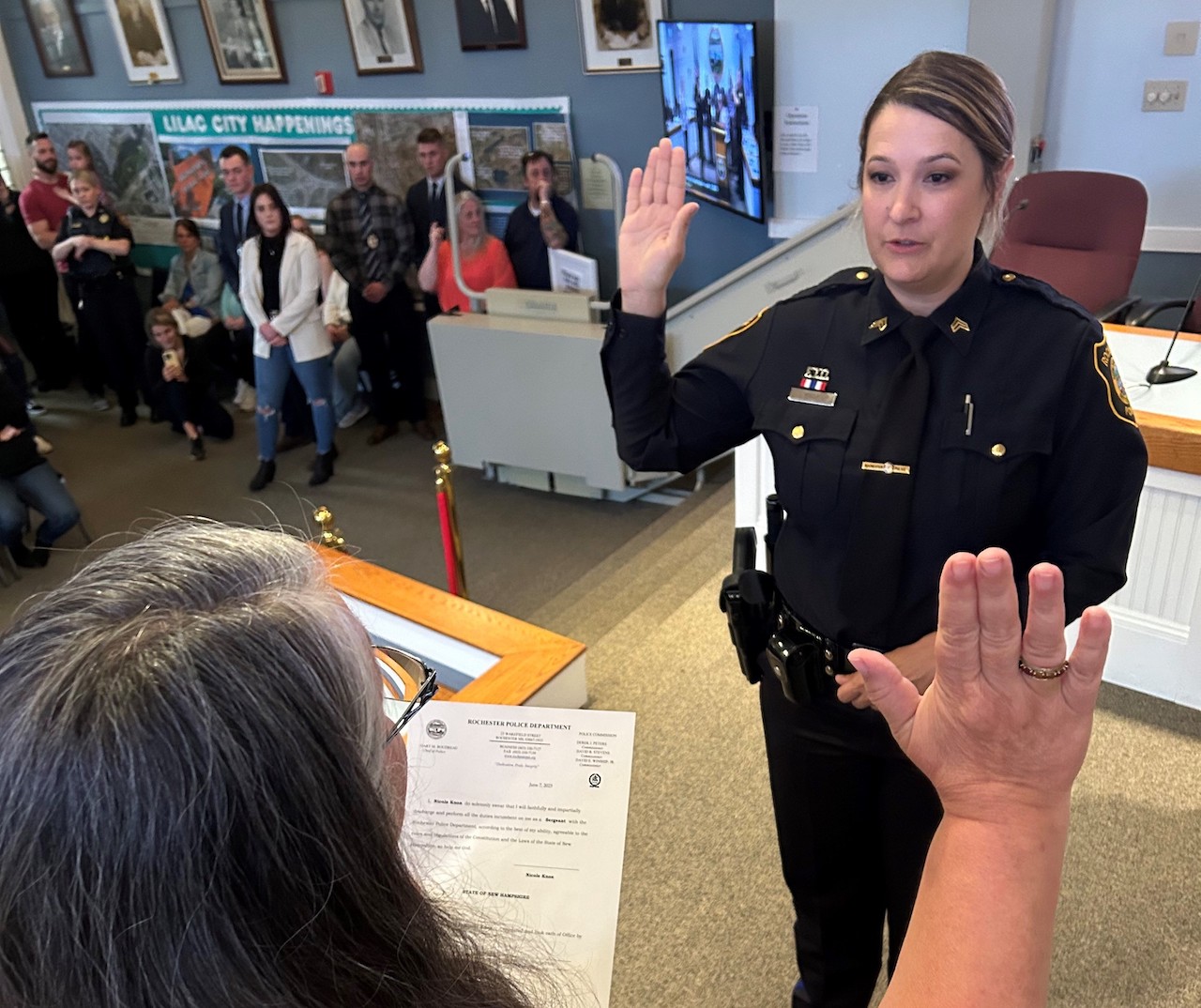 Finally, Nicole Knox was promoted to Sergeant. Chief Boudreau noted that it was not long ago that Nicole received the prestigious Chief Ted Blair Memorial Award. Nicole started her career with RPD in October 2015 as a Communications Specialist. In that role, she flourished by mastering the trade and skillset, later becoming a trainer in the Communications Center. In December 2019, Nicole left her comfort zone and became a police officer. She served in the patrol division from then until January 2023. Chief Boudreau noted that she was one of the top performers and a leader amongst her peers. Nicole became a Field Training Officer (FTO), and in January 2023, she transferred to the Detective Bureau where she has continued to grow and expand her skills. With the promotion to sergeant, Nicole will be assigned to the patrol division.