The Rochester Museum of Fine Arts is currently exhibiting a selection of works by James Mullen in the Bernier Room, in Suite 135 of the Rochester Community Center. 
Born and raised in the rural environment of western New Jersey, James Mullen received a Bachelor of Fine Arts with an emphasis in Sculpture and Printmaking from the University of New Hampshire in 1985.
In 1986 he participated in the LaNapoule Summer Art Program, then completed his Master of Fine Arts in Painting at Indiana University in 1991. He has taught at the Savannah College of Art and Design in Georgia, the University of Evansville in Indiana, and since 1999 has taught at Bowdoin College in Brunswick, ME, where he is an Associate Professor in the Department of Art.

Mullen has received numerous awards and scholarships including an Individual Artist Grant from the state of Georgia as well as Research Grants from both the University of Evansville and Bowdoin College.
He has had over twenty solo exhibitions at venues including the Gertrude Herbert Institute of Art in Augusta, GA, The Chattahoochie Valley Art Museum in LaGrange, GA, Artemisia Gallery in Chicago, IL , The Maine Center for Contemporary Art in Rockport, ME, and at Providence College in Rhode Island. He has also had several solo exhibitions at the Ruschman Art Gallery in Indianapolis, IN and at Sherry French Gallery in New York City.
He has also been awarded residencies at the Spring Island Artist in Residence program in South Carolina, Virginia Center for the Creative Arts, and at the Ragdale Foundation in Lake Forest, IL. In 2010 he was selected for an Artist Residency at the Petrified Forest National Park in Arizona, and in 2015 was awarded a residency at Hewnoaks Artsist Colony. In 2015 he was awarded a Puffin Foundation Grant for the Pilgrimage Project.

Recent solo exhibitions have included Phoenix Gallery in New York City, New England College in Henniker, NH, University of Southern New Hampshire, and the College of the Atlantic in Bar Harbor, ME.
This is Mullen's first exhibition with the Rochester Museum of Fine Arts. 
"My work is centered on painting the landscape, often based on photographs I have made on-site," said Mullen. "This is a continuation of a body of work that I have been building over the last two decades dealing with the depictions of the environment."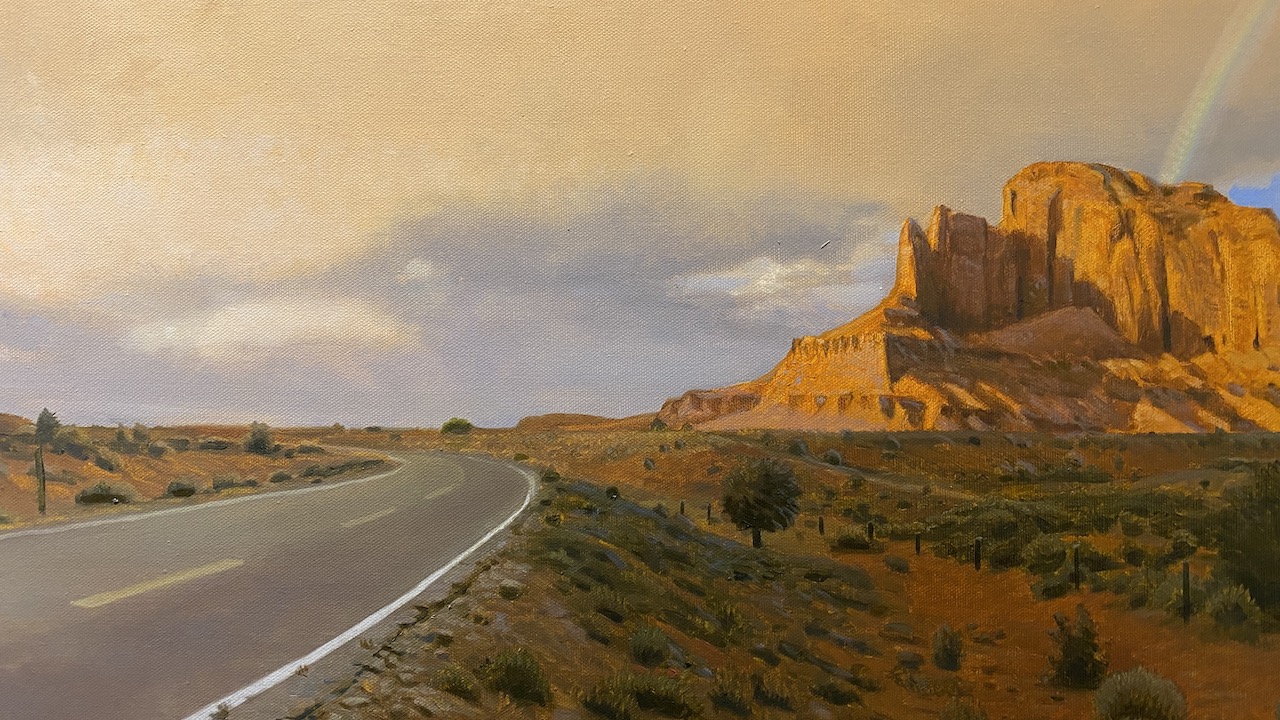 ​"I spend extended time at these sites in an effort to engage them in a more mindful manner," Mullen continued. "In doing this, I hope to create work that can help remind the viewer of the value of a more thoughtful engagement with the environment, and the importance of that connection."
The works will be on display for the month of Februrary. The Rochester Museum of Fine Arts is located in the Rochester Community Center at 150 Wakefield Street, Rochester, NH. Visit www.rochestermfa.org to learn more.
The Rochester Museum of Fine Arts is sponsored by the City of Rochester, Rochester Main Street, Bernier Insurance, Greater Rochester Chamber of Commerce, and Lenharth Systems.