The Rochester 5th & 6th Grade Boys Travel Team finished off a very successful (22-5) season this past Sunday with a travel tournament championship victory in Seabrook, NH.
During the season, Rochester competed against some of the best teams from all over the Seacoast. On Sunday, they played and beat a talented rival York team 38-25 to earn their second tournament championship of the season. The York team had just scored an impressive 52 points and won against a strong undefeated in tournament play Newburyport team to earn their appearance in the Seabrook Tourney Championship. Rochester entered this championship game undefeated with 6 oftentimes convincing tournament victories.
After trailing 4-0 early in the championship game, Rochester's stand-out performer, Colby Lambert, got the scoring going and from that point seemingly willed his teammates to victory. Colby had a game-high 18 in this one. Rochester's 2nd leading scorers had tied on the season; Griffin and Sawyer Demers pitched in with 13 points. Speedy point guard Sam Kagema made a beautiful highly defended finish at the rim for 2. James Mabey hit a perfectly arced and backbreaking 3 point shot from the corner and one of the team's sharpshooters, Ryan Proulx, found himself alone and finished at the rim for 2 more points to round out the scoring.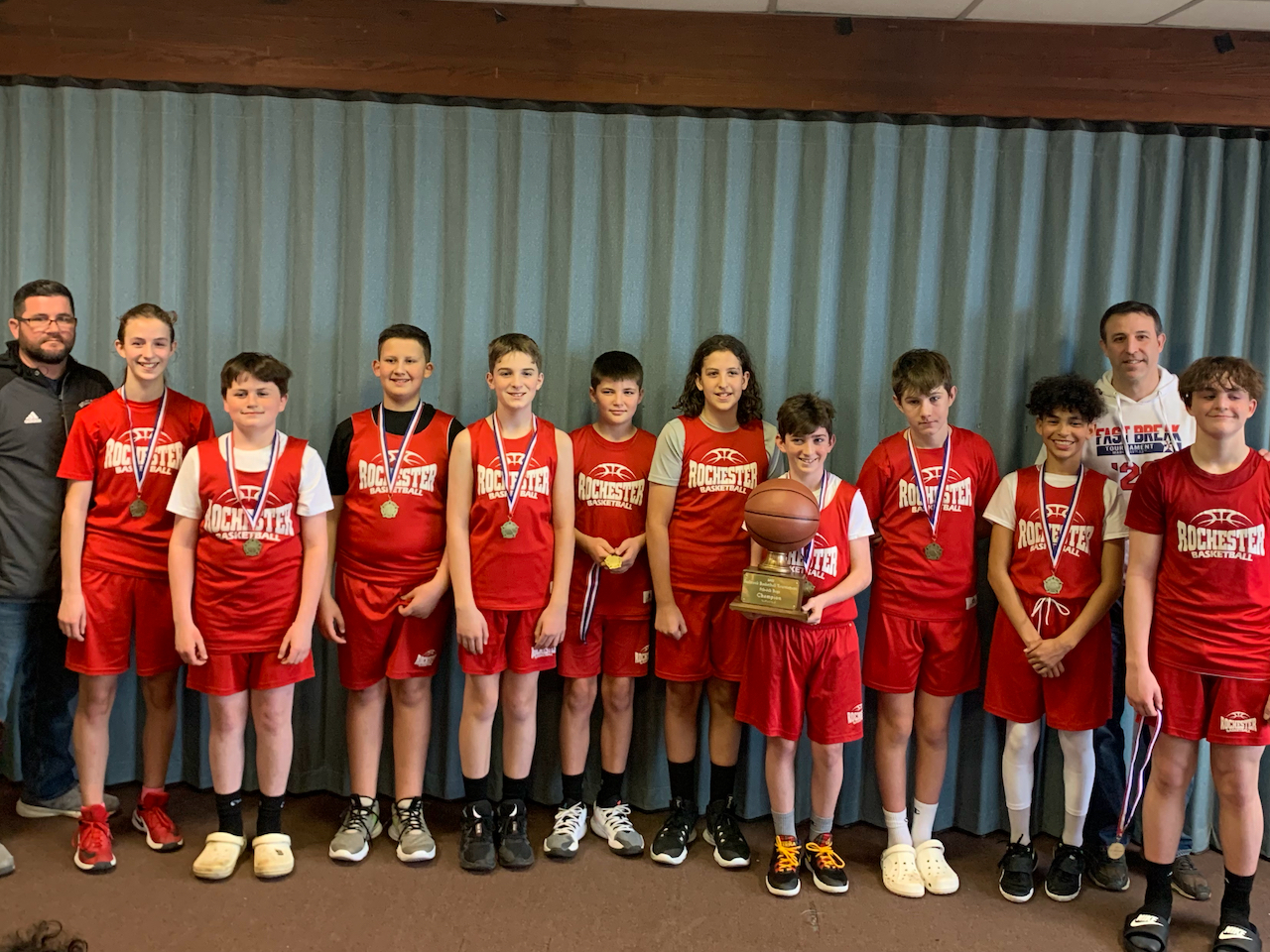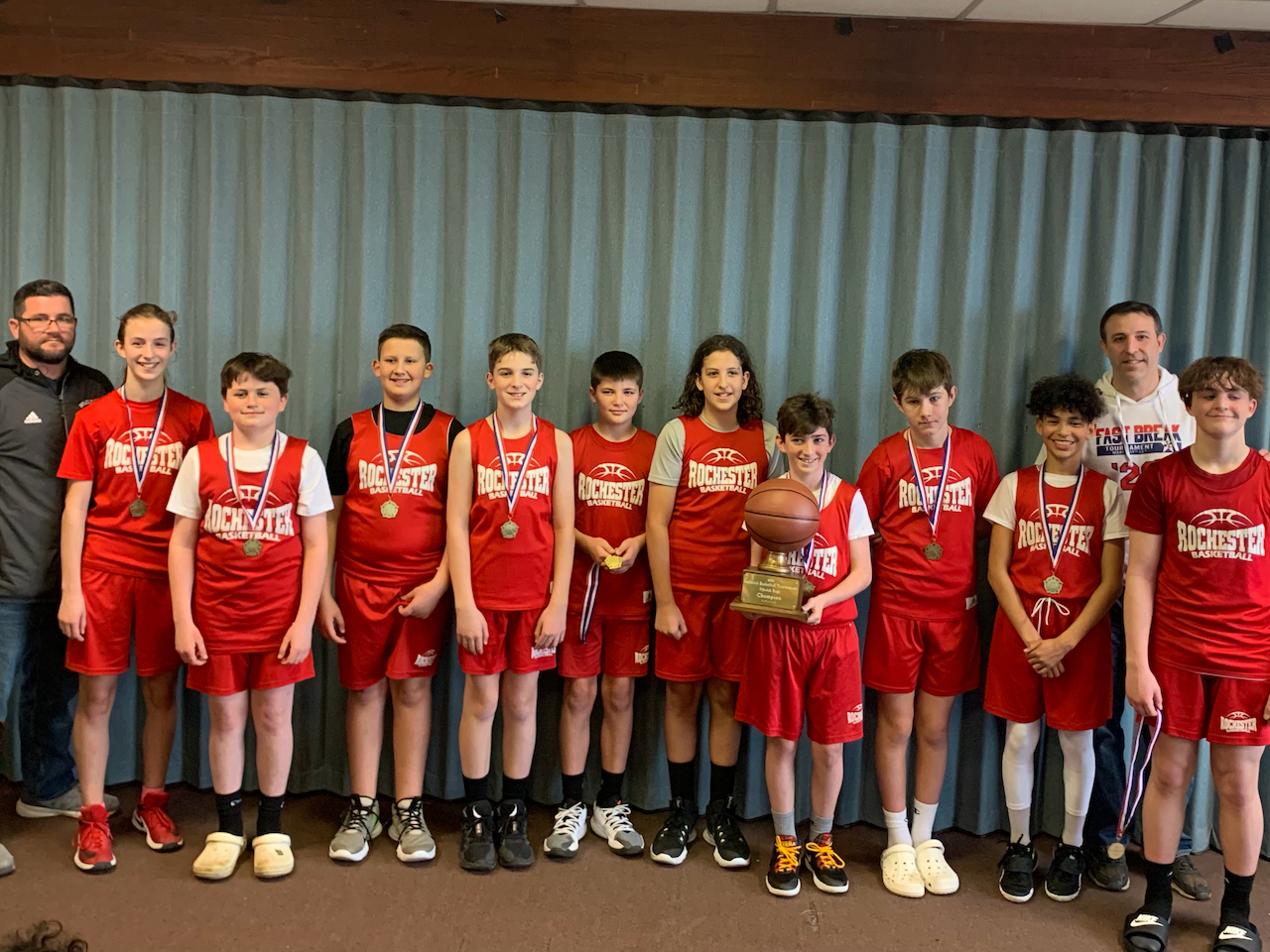 Both Rochester coaches would agree that the key to their success this season was a stifling team defense. Rochester had the height, speed, quickness, ability, and most importantly the desire to match up with and shut down all types of offenses. In addition to that, every Rochester player at times pitched in on the defensive end to make it so.
Colby Lambert was again the team leader with the most steals who usually matched up against an opponent's best scorer, but it's a team defensive concept that takes everyone. Sam Kagema locked up point guards all season long, rarely getting a rest. Griffin Demers is an incredible help defender. Bailey White extensively contributed in every facet of the game, but it was his defensive contributions down the stretch that helped Rochester get over the top. Caleb Plante who is most aptly compared to Sonic the Hedgehog because of his quickness frustrated opponents all season long. Tournament addition Logan Summers is an extremely intelligent ballplayer at both ends of the floor. Lucas Uraskevich anticipates passes as well as any player. Keegan Daly and Griffin were the ones who most consistently boxed out.
According to Coach Ryan Demers, Rochester succeeded because they all bought into the concept of defense. "They all contributed during the season and they all improved as the season progressed. They won championships because they played great defense and they did it together."
"I am incredibly proud of them and the Rochester Community should know how hard these kids worked and be proud of them too," said Demers.
Special thanks to RSA Realty, Hannaford Supermarket (N Main St.) & LDI Solutions, LLC who all chipped in financially to help us get started with team insurance, initial league fees, etc. The Spaulding Basketball Booster funds had dried up because we hadn't hosted any tournaments the previous year due to Covid. I would like to thank Rochester Schools Dept. Facilities Secretary, Amanda Oulette, for granting us access to practice at the Gonic School. Thank you Gary Newton, for clearing the Gonic court of cafeteria tables every time we came in. Thank you to all the Rochester Community Center employees who worked with us to get us into the rec center gym for practices. Special thanks to the Spaulding Basketball Boosters; specifically Chris Proulx, Keri Devine, Tracey Collopy and Moe Callahan who organize everything and manage the finances that make all this possible year after year. Finally, thank you to all the 5th and 6th grade travel team parents and high school volunteers. You stepped up in a huge way to run the largest tournament Rochester has ever had so that the Boosters may continue to fund and support our youth basketball programs.