Rochester Main Street is a volunteer organization that focuses on the revitalization, vibrancy, and the economic vitality of downtown Rochester. The organization struggled during the pandemic, canceling or postponing most events and initiatives. Further, the organization lost its executive director in late 2020.
According to board member Carole Glenn, the group is recharged, and ready to take on new projects and revamp past events. They decided not to rehire another director, instead choosing to encourage board members to take on day-to-day tasks themselves, saving money and empowering members to think creatively.
"Our future is bright," said Glenn. "We've been busy over the past year and there is great energy from the board and volunteers."
Glenn reports that the nonprofit recently added bistro tables to the Cocheco Riverwalk, planted flowers in Central Square, and added a 'Welcome to Downtown" sign in the heart of the city. They also collaborated with the City of Rochester to string Edison lights throughout the immediate downtown area, a project that has received overwhelmingly positive feedback from business owners, residents, and visitors.
The group plans to clean up Wyandotte Alley (on North Main Street) by adding more lighting and constructing a small deck that can be utilized for outdoor dining or live music. On August 8th, the Rochester Planning Board approved plans for Main Street to add several postcard murals, highlighting Rochester's rich history.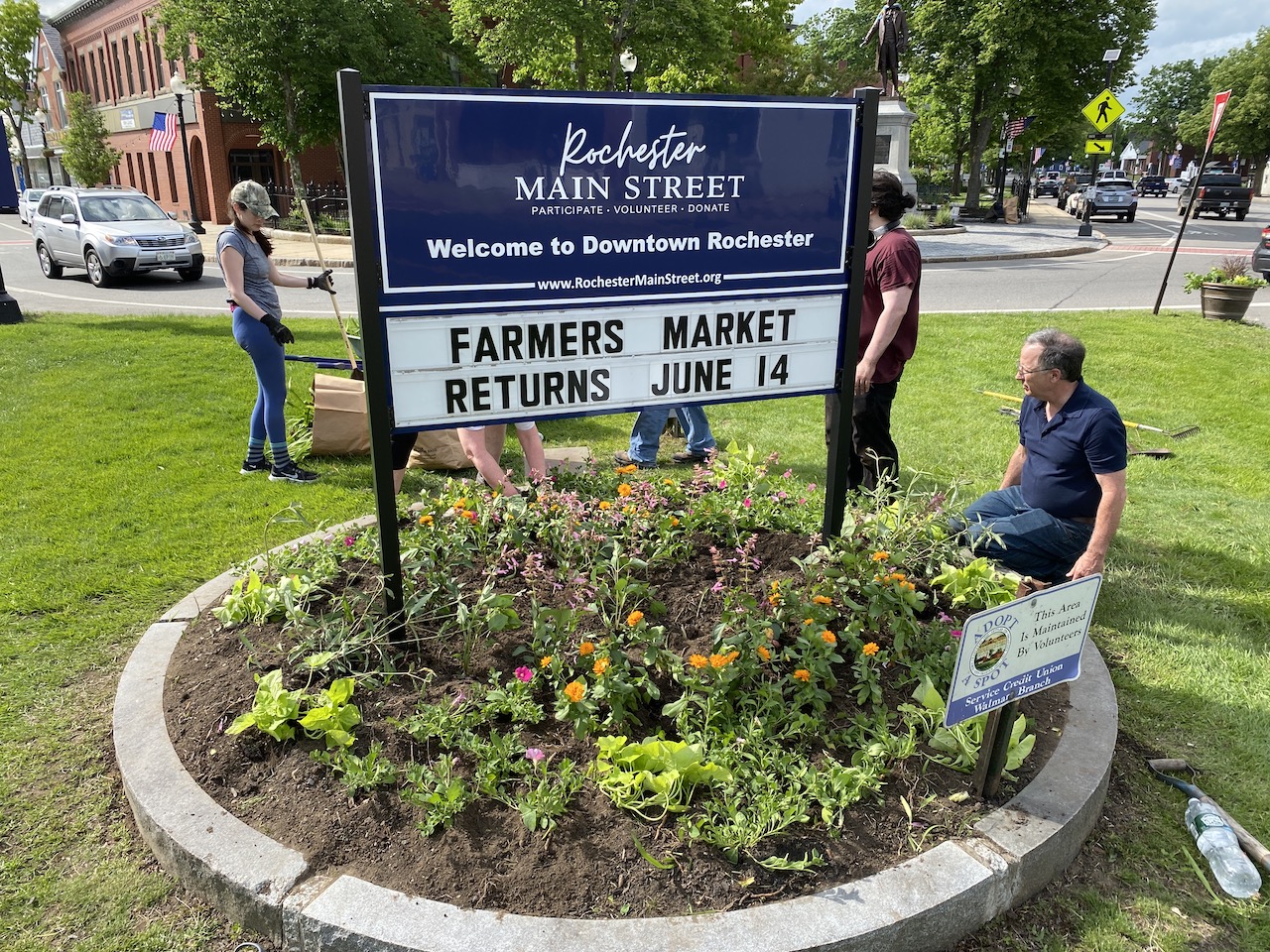 "Vibrancy is the goal," said Glenn. "We are a great team with fantastic ideas. Downtown is such a special place for so many people. With all the new housing under construction, we need to be ready for all the new residents that will be relocating here."
With children and families in mind, Rochester Main Street recently organized more than a dozen volunteers to create a Bigfoot scavenger hunt. Workers cut out 10 plywood Bigfoot silhouettes, painted them bright colors, hid them around downtown, and premiered a mobile website that provides clues for children and families to locate them all. Participants are encouraged to complete the activity and submit their contact information to win gift certificates to the downtown business of their choice.
According to board member Matt Wyatt, the Bigfoot project is just the beginning.
"We hope these initiatives properly illustrate our commitment to the vibrancy of downtown," said Wyatt. "In addition to all the projects, our events committee has plans to revamp some of our past events. We can't wait to show everyone all the planning and hard work that is going into everything we do."
Wyatt says the group is working to improve their Halloween event, Zombie Walk, and Festival of Trees. Also, they will continue to support other strong downtown events like Free Comic Book Day and PorchFest.
"We have an incredible group of board members and volunteers," Wyatt continued. "We hope that people will enjoy our efforts and help us out."
To learn more about Rochester Main Street, make a donation, or volunteer, visit www.rochestermainstreet.org.