The Rochester Fire Department is pleased to announce that October 9-15, 2022 is Fire Prevention Week. The theme set by the National Fire Protection Association is 'Fire Won't Wait, Plan your Escape'.
According to Deputy Chief Adam Hughes, one of the easiest (and most important) things a family or individual can do before an emergency is to be aware of all exits, whether it's in a home, a neighbor's house, or a place of business. It could be a door, window, or bulkhead.
"In an emergency, the quickest way out may not be accessible. So knowing all the means of egress provides you with alternatives," said Hughes. "It's also important to have a meeting place once you have evacuated."
If you have children, Hughes suggests that families get together and map out their home on paper and practice their evacuation plan. "Practicing does two things, it builds familiarity and gives you the opportunity to test your smoke alarms."
Hughes says smoke alarms should be tested regularly. Most fire-related emergencies are caused by a lack of smoke alarms and preventative measures.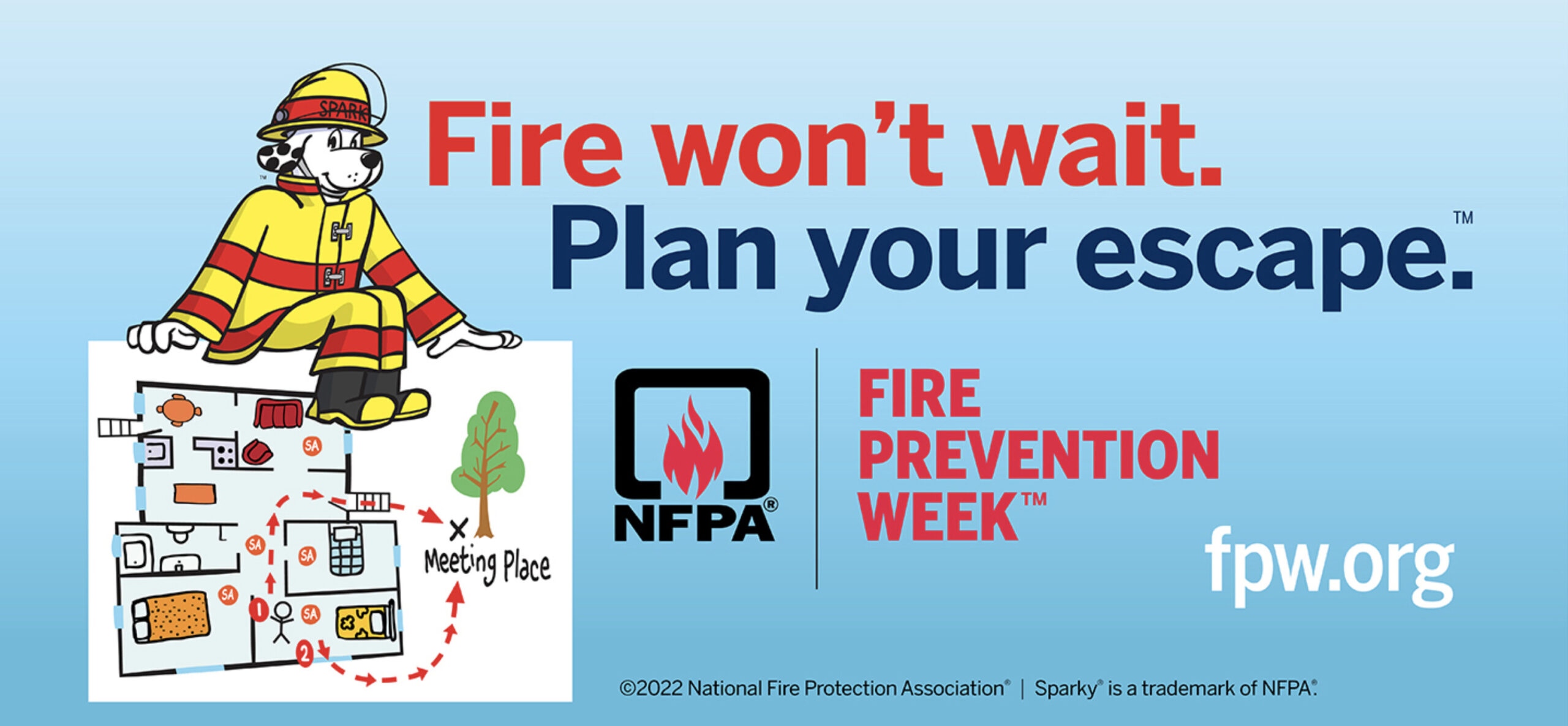 This year, the Fire Department will be visiting every public school throughout Fire Prevention Week. Students will get the opportunity to see multiple pieces of apparatus, emergency equipment, and Marshal the Dog. Students will also receive several useful tips and techniques to better protect themselves during an emergency.
"In addition, we'll have a wrecked vehicle at Spaulding High School with information about distracted driving," said Hughes. "On Friday, October 14, Fire, EMS, and Police will do a mock response and patient extrication in the Senior Parking Lot. It's our hope that students will understand the severity of distracted driving."
The Fire Department will be hosting station tours in the Central Fire Station (37 Wakefield Street) from October 11-14, 9am-2pm. The tours are meant for anyone that wishes to see the apparatus, tour the station, and learn more about fire safety and prevention. For large groups, Hughes suggests calling (603) 335-7545 to schedule an appointment.
Finally, the Rochester Public Library will be hosting a Book Walk in the area between Central Fire Station and City Hall. This year's recommended reading is Plan and Prepare! by Charles Ghigna. This book is an excellent resource to teach children how to plan and calmly evacuate an emergency situation. Call (603) 335-7549 for additional information.
Click here for additional activities and to learn more about Fire Prevention Week
###
The History of Fire Prevention Week
Fire Prevention Week was started by the National Fire Protection Association (NFPA) in 1922 to commemorate the Great Chicago Fire of 1871. Fire Prevention Week teaches children and adults how to stay safe in the event of a fire. In 1925, President Calvin Coolidge proclaimed the first National Fire Prevention Week to occur from October 4th through October 10th, 1925. President Calvin Coolidge stated that, "This waste results from the conditions which justify a sense of shame and horror; for the greater part of it could and ought to be prevented… It is highly desirable that every effort be made to reform the conditions which have made possible so vast a destruction of the national wealth".
The Great Chicago Fire burned between October 8th to October 10th, with most of the damage done on October 9th. The fire caused roughly $200 million in damages, killing around 300 people, and destroying over 17,000 buildings and structures. The consequences were more than just fire damage itself, as martial law had to be declared after an outbreak of looting and lawlessness. The fire was said to have started when a cow kicked over a lantern in the O'Leary barn in the southwest side of the city. Fortunately, in 1997, the Chicago City Council passed a resolution exonerating Catherine O'Leary, as well as her cow. Today, the Chicago Fire Department Training Academy is located on the site of the O'Leary property where the fire started.