The Franklin Gallery at RiverStones Custom Framing, 33 N. Main Street in Rochester, will host an exhibit called 2020 Indoor Imaginings featuring the work of Berwick artist Anne Vaughan, during the month of March.
There will be no opening reception due to RCF's concern for the safety of its visitors, but anyone may stop by and see the current exhibit during regular RCF business hours.
"2020 Indoors Imaginings, was painted during an ugly year as the covid pandemic drove us to stay at home," says Vaughan.  "During this time, I read many art history books and found the elegance of some Dutch paintings of stilleven.  I loved the paintings that conveyed glitz and decay against dark tapestry and I imagined pottery on serpentine sheets of cloth against sweeps of sky." 
Many of Anne's still life works are based on paintings created by other artists. She focused on colors in arcs and swoops, glazed and textured containers, sleek pots from Spain or France open-air markets, or early pots from New England.  "My travels from another world and another time were brought indoors as inspiration for the art I created while sheltering at home."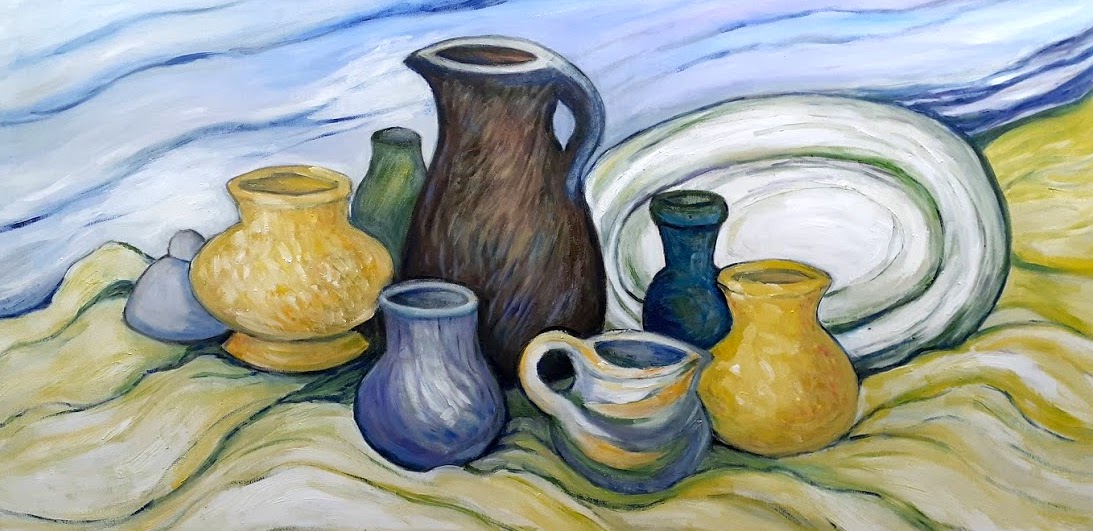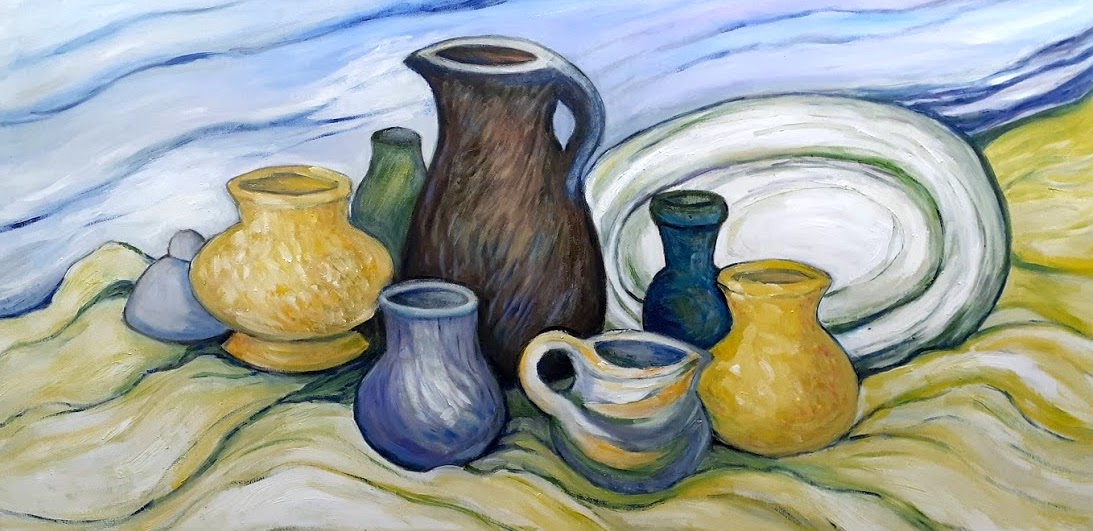 Anne has been a member of many local art associations, including the Berwick Art Association, Kittery Art Association, Seacoast Moderns, the Blackbird Studio and Gallery, and York Art Association. She also has displayed her paintings at Timeless Framing, Black Bean Café, Sole City Dance Studio, Sarah Orne Jewett House, University of Southern Maine, and in local public libraries in Berwick, Rochester, Dover, Somersworth, North Berwick, York, Durham, and Gafney Library in Wakefield.  Anne welcomes calls and visits from any person who would like to see her paintings.
Vaughan went to the Temple University James E. Beasley School of Law after being a paralegal, working for legal services programs involving issues of health care eligibility, housing, domestic disputes, and disability claims. Throughout her career, she studied art and art history and became a docent at the Philadelphia Art Museum.
Anne has a lifelong love of art and art history and painting, and in her retirement, indulges this love in her works.  Anne has been painting in oils for some years, but her work has increased since she and her husband retired to rural Maine in 2010, to be near children. Maine has lots of family history for her: She has four daughters (all born in Maine) and her four grandchildren all live in New England. Her father's family is from Bowdoinham, but she spent her childhood in Texas and high school years in Massachusetts as a farmer's daughter on a dairy farm.
RiverStones Custom Framing and the Franklin Gallery are open Wednesday through Friday, 11 a.m. until 5 p.m. and Saturday, 10 a.m. until 2 p.m. For information about Anne Vaughan's March exhibit and other RiverStones events and services, call Kris or Tom at 603-812-1488 or visit the RiverStones website or Facebook page.